Ninon Phillips (1921 – 2015) Founder of Wildlife In Secure Environment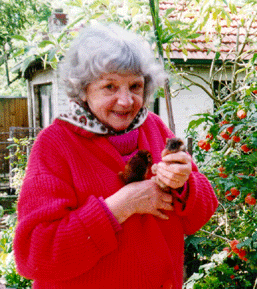 Ninon Phillips was a renowned Melbourne Icon and received the Pride of Australia Environment Award in 2007 as well as the Order of Australia (OAM) in 2009 for service to animal welfare. She established Wildlife In Secure Environment Inc in 1991.
So full of life energy and a great sense of humor, Ninon a successful textile designer in the 1930s; nursing sister starting in the 1940s; somehow found time to also become one of Australia's most respected wildlife artists.
In the 1960s, Ninon was matron of Allendale Private Hospital in Melbourne. She also managed to care for her mother Sylvia and aunt Lil; worked on textile and graphic design, painting and book illustration. During this time her interests in wildlife and animal protection grew stronger.
The 1970s saw Ninon present numerous exhibitions and she founded the Society of Wildlife Artists of Australasia.
During the 1980s she established a sanctuary for Cape Barren Geese on Flinders Island; conducted many exhibitions,; and liaised with Melbourne Zoo, RSPCA and Healesville Sanctuary regarding artwork and wildlife rehabilitation.
The 1990s saw more art exhibitions and the time spent caring for animals in her Hawthorn home was ever increasing.
Never one to turn an animal away, Ninon would often answer her door or the phone holding a baby possum or injured bird. She was constantly feeding injured or orphaned animals in her home. Finding time for sleep always came after caring for animals the animals. Those who dropped animals off to Ninon knew she loved to tell a hilarious story about her experiences with a spirited cockatoo, burrowing wombat or other animal who spent time in her care. A quick drop off at her front door could easily last 45 minutes!
In the early 1990s Ninon was made President of the Wildlife Branch of the RSPCA and as one of her most proud achievements (though ever humble) in 1992 she established Wildlife In Secure Environment Inc, which continues to run a property in central Victoria caring for injured and orphaned animals.
In her final years Ninon was unable to continue caring for animals as she had done for so many years. She retired to a nursing home and passed away peacefully in 2015. Ninon had planned for the future and so The Haven lives on and continues to care for wildlife in need.
Ninon worked tirelessly her whole life and excelled at what she did. She was well known, respected and loved by so many and will be missed by many. She was a unique character and a very great Australian.